Photo courtesy of Chipotle
Many businesses offer comprehensive and unique benefit packages as a way of attracting and maintaining top talent. For Chipotle Mexican Grill, cooking up strong employee benefit packages not only accomplishes those two goals, but also helps the company with its long-term focus on employee engagement and building connections.
---
In an effort to keep its benefits program fresh and give more employees something to strive for, the restaurant chain decided to build off of its annual crew bonus (available for employees based on tenure and a minimum of one year of service) and add a quarterly bonus, which is available to all employees.
The new crew bonus launched in April and gives hourly employees the opportunity to earn up to an extra month's pay each year.
To qualify, restaurant teams must meet certain criteria, such as predetermined sales, cash flow, and throughput goals. Meeting these goals can result in a bonus worth one week's pay, which is calculated as an individual's average weekly pay per quarter.
"At Chipotle, we're not only looking to compete for the industry's best, we're looking to keep the industry's best," said Marissa Andrada, chief people officer of Chipotle. "Chipotle is about cultivating a better world, building a real community that works together to win together, and this bonus program provides a strategic investment in the people who make up the brand."
The restaurants who qualified for the bonus during the second quarter of 2019 received their cash reward in July.
The new crew benefit, along with the restaurant's other employee benefits, are only a piece of the puzzle.
Chipotle Stresses The Importance Of Connection
Photo courtesy of Chipotle
Chipotle believes that one of the best benefits offered is the opportunity to connect with employees.
By connecting with other team members, employees will feel more engaged and connected to the company. They're also more likely to remain loyal and stay, according to Jamie Viramontes, president of talent at Chipotle.
Viramontes said the company accomplishes this goal in four ways:
Knowing Your People: Managers make an effort to get to know employees, learn their professional goals, and create an environment of inclusion in the workforce.
Growing Your People: Chipotle encourages employees to build careers with them by promoting from within. According to Chipotle, 80% of general managers have been promoted from within, often starting as line level crew members. In 2018 alone, Chipotle promoted 13,689 employees, according to its Sustainability Report.
Investing In Your People: To build on employee success, Chipotle offers a number of training and development tools, including coaching, webinars, in-person training, and third-party coaching via Bravely.
Engaging Your People: Chipotle encourages employees to give feedback on how to make the company better. Employee feedback recently led to an overhaul of the annual performance review process.
Growing And Expanding Benefits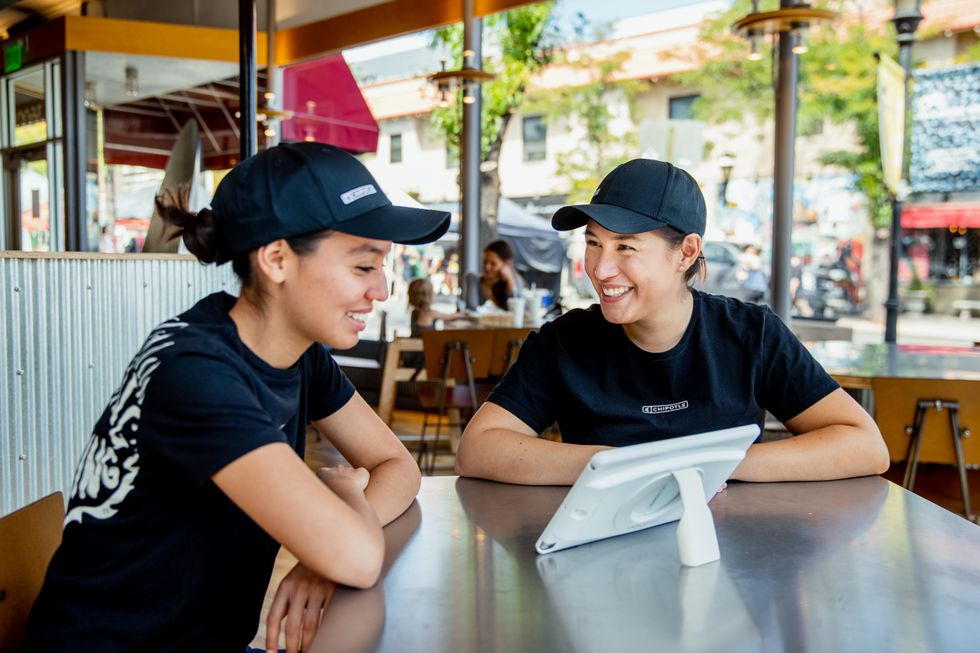 Photo courtesy of Chipotle
Other benefits offered to Chipotle crew members include paid meal breaks (complete with a free Chipotle meal per shift), free English as a second language class for employees and family members, tuition reimbursement up to $5,250 a year, and dental, vision, and medical insurance options.
According to its Sustainability Report, Chipotle's upcoming employee benefit goals include:
Make the Employee Assistance Program available to all employees, so they have access to quality mental health care by 2020.
Create at least three Employee Resource Groups (ERGs), throughout the organization in 2019 that will spark discussions and allow for employees to play an active role in shaping culture and company practices.
In addition to these goals, Chipotle is also offering bias training for field leaders and working to expand its Diversity and Inclusion program.
There's a lot going on behind the scenes at Chipotle as the restaurant continues to focus on ways to engage employees and push through its initiatives. For more information about Chipotle and its initiatives, review the restaurant's Sustainability Report online.
Interested in joining the crew? Check out the restaurant's current openings.