Popular
Salesforce Is Hiring Now For Remote Work And Internships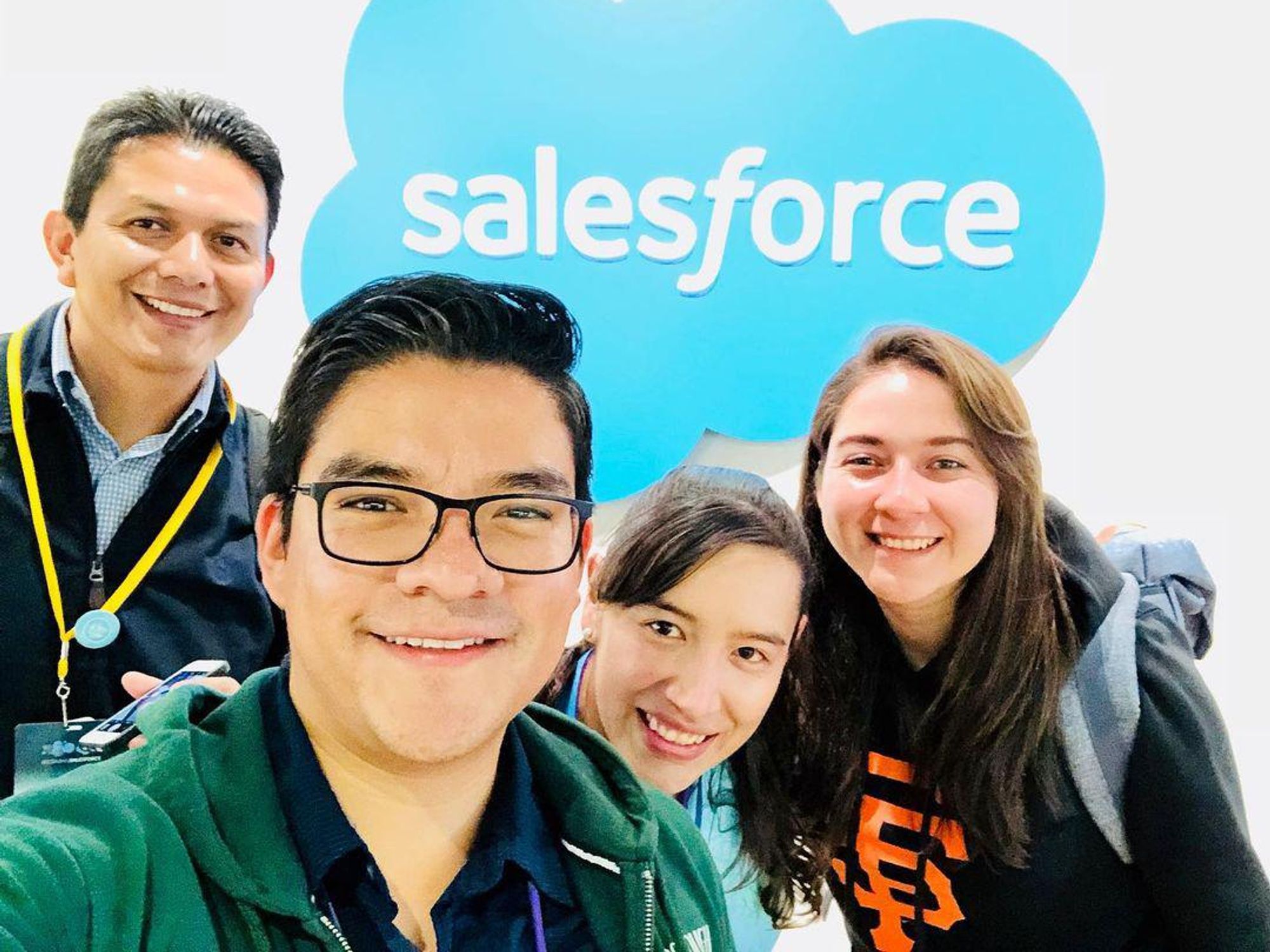 (Photo from Instagram)
There's a good chance that you recognize Salesforce from stories about its company culture, or maybe you have even used its product. But did you know that with greater workplace flexibility and new job opportunities now may be the perfect time to explore a career at Salesforce?
---
What Job Seekers Should Know About Salesforce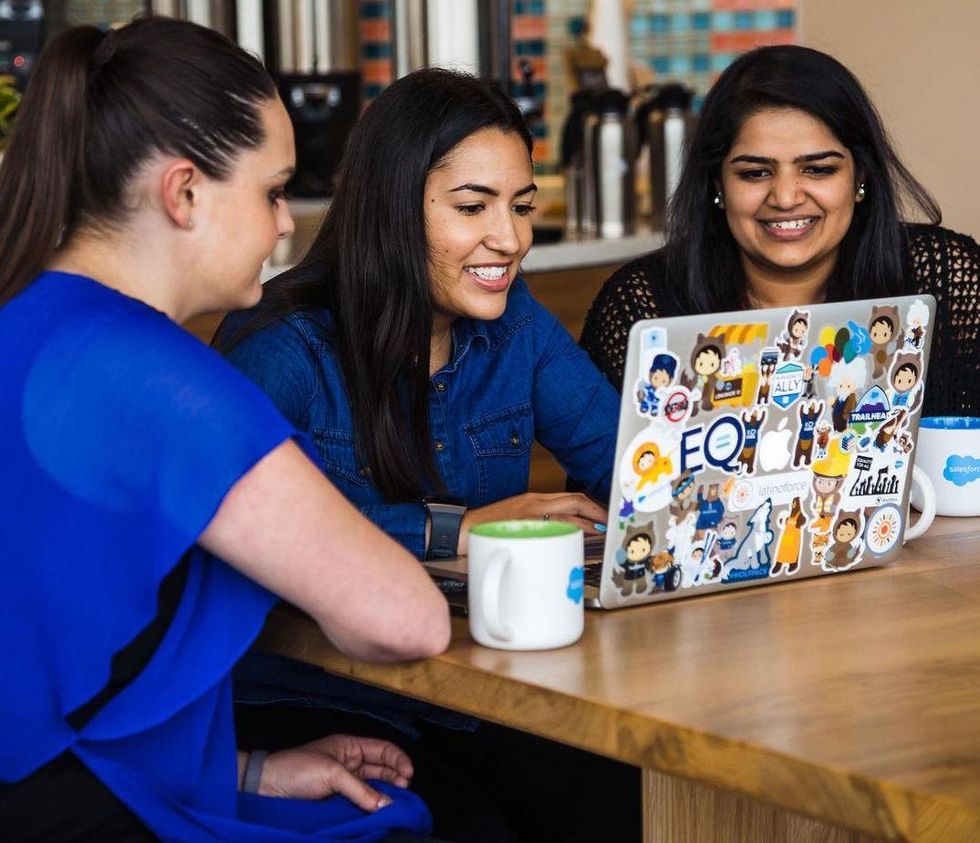 Salesforce employees collaborate with each other.
(Photo from Instagram)
Salesforce is the world's top cloud-based customer relationship management platform. In addition to helping companies connect with their customers, Salesforce is a major organization and tracking tool for businesses of all sizes as the platform helps companies with marketing, sales, commerce, service, and IT.
Salesforce has over 150,000 customers, including well-known businesses like T-Mobile and BBVA. The company was founded in 1999 and is headquartered in San Francisco. But, with 63 offices in 28 countries and remote work opportunities, those interested in working at Salesforce aren't limited by borders.
Salesforce has built a strong reputation for its product and company culture and is frequently featured on Glassdoor's "Best Places to Work" list.
How To Get Your Career Started At Salesforce
@workitdaily

Reply to @melisa.amour 3K wfh jobs/internships open now! #workitdaily #jobtok #jobportalabroad #hiringnow #YasClean #hiring #careeradvice #amongus
Like many companies, Salesforce is adding to its remote workforce globally.
A career at Salesforce may be particularly appealing to you if you're looking for a job in sales, products and technology, customer success, finance and operations, marketing, or project management, to name a few departments.
Salesforce's robust internship program also makes the company a great opportunity for college students or those looking to break into the software and technology industry.
"Our interns and new graduates work on real projects that affect how our business runs, giving them the opportunity to make a tangible impact on the future of our company. With offices all over the world, our recruits have the chance to collaborate and connect with fellow employees on a global scale," the company states on its website.
3 Interesting Facts About Working At Salesforce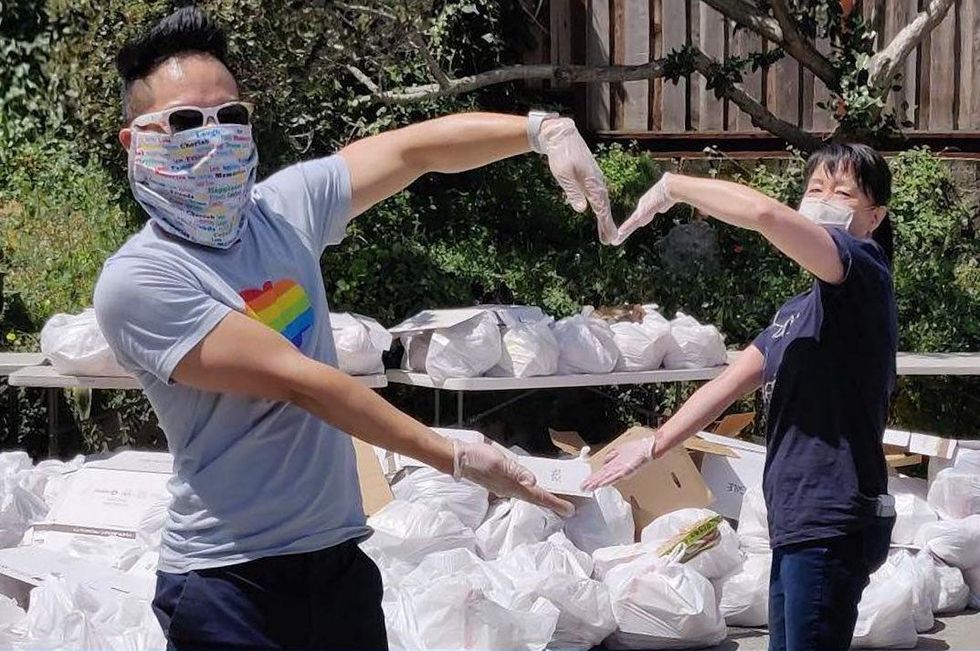 Salesforce employees work together on a community service process.
(Photo from Salesforce)
1. Salesforce is committed to building a workforce that reflects society.
Currently, 47.7% of Salesforce's U.S. workforce is made up of underrepresented groups (Women, Black, Latinx, Indigenous, Multiracial, LGBTQ+ employees, People with Disabilities, and Veterans). The company is focused on meeting the following diversity goals by 2023:
To have 50

%

of the U.S. workforce made up of underrepresented groups (Women, Black, Latinx, Indigenous, Multiracial, LGBTQ+ employees, People with Disabilities, and Veterans).
To double the U.S. representation of Black leaders (VP+) and increase the representation of underrepresented minority (Black, Indigenous, Latinx, and Multiracial) leaders by 50% by 2023.
To increase U.S. representation of underrepresented minority (Black, Indigenous, Latinx, and Multiracial) employees by 50% by 2023.
Salesforce also has a comprehensive equal pay strategy that the company is constantly assessing.
2. Salesforce is ready and willing to adapt to the changing workforce.
Salesforce has a lot of offices around the globe but the company recognized early during the COVID-19 pandemic that the 9-to-5 office climate was never going to be the same. The company decided to survey employees about what they wanted the return to work to look like and the majority of employees wanted a flex option with a few days in the office and a few days remote.
A large number of employees wanted to stay fully remote, and only a small number of employees wanted to return to the office full time. As a result, Salesforce has developed a strategy where all options are on the table for employees and those who do return to the office will notice a more welcoming space that fosters collaboration rather than a sea of desks.
3. Salesforce offers competitive benefits.
Salesforce's employee benefits package is aimed at enhancing the well-being of employees and their families, and includes:
Parental and caregiver leave, gradual return-to-work option for new parents, and adoption, fertility, and surrogacy support
Monthly wellness reimbursement, employee webinars, and events with tips and tricks to live well
Nonprofit donations matched up to $5,000 per year and seven days of paid volunteer time off (VTO) per year
Generous time off and holidays and work-life integration
Careers At Salesforce
If you're interested in working at Salesforce, visit the company's careers page to learn more.