How College Grads Can Get A Jump On The Job Search
July 18, 2019
A recent report from Yahoo Finance indicates that the underemployment rate for college graduates is higher today than it was a decade ago, meaning more grads are taking minimum wage jobs or jobs that they're overqualified for in order to make ends meet.
---
In March 2019, the underemployment rate for workers aged 22 to 27 was 41.3%, according to the Yahoo report. Getting a job out of college is not easy.
Some of the reasons cited for this college underemployment trend include increased competition in the workforce and the urgency that some graduates put on themselves to secure some sort of job immediately. The job market is competitive but there are some things that college grads, and current students, can do to put themselves in a better position. Here's some tips on how to land a job after college.
Be Thoughtful About Your Career Path
Do you know what the career options are for your degree? How competitive is the industry? What's the average salary for the type of role you're pursuing?
These are not questions you should be seeking to answer after graduation. These are all questions that should've been asked prior to declaring a major.
Research...Research...Research!
Knowing what you might be in for after graduation can help you with planning. You could meet with your adviser well in advance of graduation and look at potential internships and identify potential companies to work for, allowing you a head start on your networking efforts.
If you failed to prepare like this prior to graduation, you're not doomed but you did put yourself at an initial disadvantage.
What If You're Unsure About Your Career Path?
Even after college, some people are unsure about what they want to do for a career. If you find yourself in this situation, don't panic.
You need to do an honest assessment of yourself and determine the valuable skills that you possess. Most importantly, ask yourself "what are some of the things I love doing?"
Work It Daily also has resources that can assist you in your search. Our FREE Career Decoder Quiz will help you determine your professional persona.
Knowing your professional persona will help you understand the skills you have that bring value to the job and that you find professionally and personally fulfilling.
Always Be Open To Developing New Skills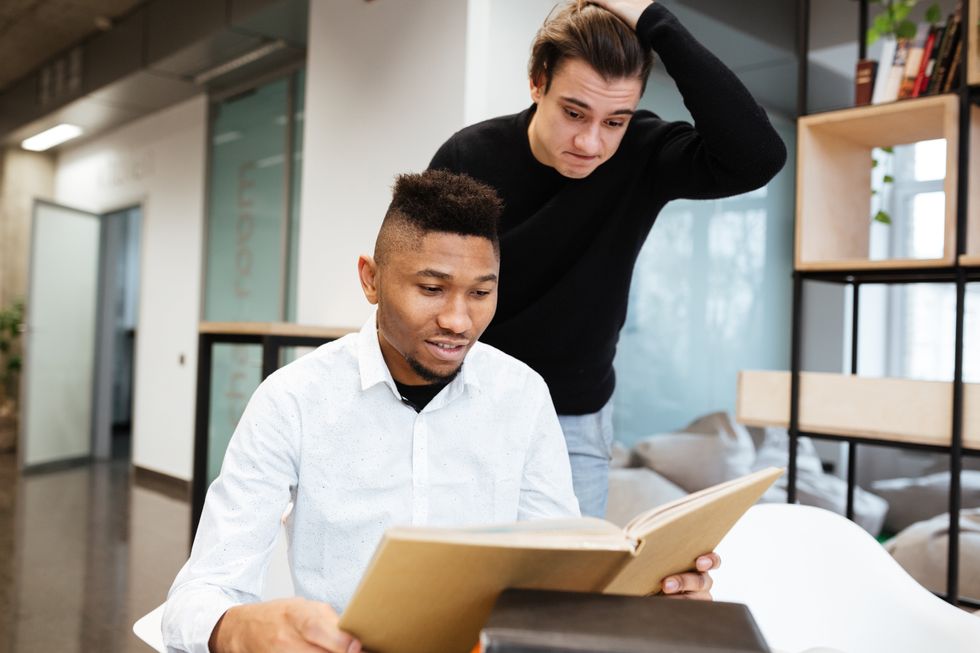 Two confused students in library learning education material
Whether you're a graduate or still a student, don't limit your opportunities to learn new skills.
Chances are you have interests outside of your course of study, you should be open to pursuing those interests. It could be that you're a health/science major with an interest in computers. Why not take some computer courses?
Interested in learning a trade? Electricians, plumbers, contractors, and auto mechanics are all in demand.
If you're still in school, you have an opportunity to take additional courses or decide on a double major or minor.
Options may be a bit more limited for recent grads but there are always certification programs or specialty course programs available. As long as you have a hunger for more knowledge, you should never stop wanting to learn. The more skills you have, the more career options are available to you. Options are important during the job search for recent grads.
Educate Yourself About The Job Search Process
School can't prepare you for everything, and most of the lessons people learn from the job search process come from real-world experience. However, there are some things you can do to prepare.
First, research as many potential jobs as you can before graduation and identify some potential companies that you would like to work for. Second, prepare multiple resumes tailored for the specific positions for which you're applying.
A recruiter needs to see within the first six seconds of reading the resume the skills that you have that can apply to the position. You should also prepare a "disruptive" cover letter where you really bring attention to yourself by telling a story about how you connect with the company.
The last thing that you need to do is to reach out and network. It's not enough to send out a resume and cover letter and just hope that you'll be contacted. Reach out to people in the company through LinkedIn and introduce yourself. Use the fact that you're a graduating student seeking knowledge to your advantage. There are professionals who enjoy the opportunity to mentor.
Even if these new connections don't translate into an immediate job, you've made you first professional contacts, which could come in handy at some other point in time. Knowing how to do a proactive job search will serve you well throughout your professional life.
Remember, There's Nothing Wrong With Changing Career Paths
Sometimes you find happiness and success in a career field that you didn't go to school for. That's OK, life happens!
For new grads the goal is usually to find work in your field of study and it's great when things work out that way. But as the job search process goes on you may fall into a job that you weren't planning to and end up liking it. If the job makes you happy and there's room for growth, there's nothing wrong with keeping it. It's a personal decision.
This will be true throughout your professional life. You may end up working in your field but as time goes on priorities and life circumstances change. You may develop new skills that draw you into a new career direction.The goal is to always put yourself in a position to succeed and sometimes that means making a change.
Preparation and keeping an open mind are the two common themes when it comes to the job search for recent grads. There are no guarantees to new graduates, so you have to be ready for anything. Hopefully, by knowing what to expect, you'll know how to land a job after college and can land a job that matches your talent and not have to sell yourself short and fall into the college underemployment trend.
Need help jump-starting your career? Work It Daily can help. Join today to receive exclusive career advice and coaching!




.