(Photo from LinkedIn)
TikTok has become somewhat of a cultural phenomenon and has given everyone (everyday people, celebrities, and even politicians) a platform to get creative and build their brands. But creating videos isn't the only way to get creative at TikTok. The company has a number of job opportunities available for creative types who are interested in moving the platform forward.
---
How TikTok Provides The World With A Unique Platform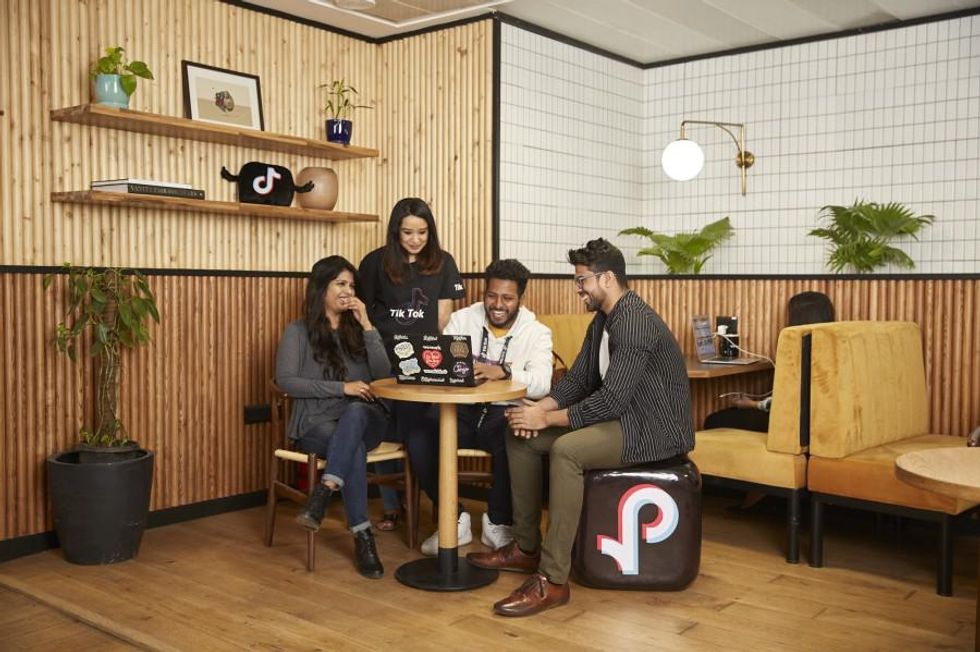 Co-workers at TikTok collaborate on a project.
(Photo from LinkedIn)
TikTok is the leading destination for short-form mobile video.
TikTok is used by regular people, celebrities, politicians, businesses, sports organizations & leagues, and other brands as a way to entertain and get out messages in a creative way. While there are big names that use TikTok, the platform prides itself on giving lesser-known content creators equal footing to get discovered.
"On TikTok, anyone has a chance to reach an audience, without needing to be a celebrity or social influencer with a large following," the company states on its website.
Many turned to TikTok when the COVID-19 pandemic kept people home in 2020, making it the most downloaded mobile application of the year. The company faced some cybersecurity concerns along the way but has since made investments in technology and people to improve security on the platform and the company has become certified by the International Organization for Standardization.
TikTok is currently available in over 150 markets and in 75 languages.
How To Get A Job At TikTok
@workitdaily

Reply to @sangita._._ tiktok's HIRING interns! #workitdaily #jobportalabroad #goodmemories #hiring #internship #dinnerrecipe
TikTok has offices around the globe, located in Los Angeles, New York, London, Paris, Berlin, Dubai, Mumbai, Singapore, Jakarta, Seoul, and Tokyo. TikTok also offers some remote work positions, but job seekers should review all job postings carefully to see if remote work is available for specific positions.
TikTok is looking to fill positions in the following departments: operations, research & development, corporate functions, marketing, sales, design, and product.
TikTok also offers a number of job opportunities for new college graduates and internships for students. TikTok has an MBA internship program that it offers for 12-13 weeks during the summer and a PhD internship program.
Those who apply for jobs at TikTok are expected to complete an initial assessment followed by three to five interviews depending on the requirements of the role.
How much do TikTok employees make?
​According to Indeed, TikTok employees are paid a competitive wage. Average salaries at TikTok range from $30,000 to $196,692, with average hourly pay ranging from $15.19 per hour to $59.15 per hour.
Is TikTok a good place to work?
Yes! TikTok is a great place to work. Not only are they committed to having a diverse workforce, excellent company culture and perks and benefits, and a positive impact on the world, but they also encourage employees to have fun at work.
Here are more details on what it's like to work at TikTok...
3 Things To Know About Working At TikTok
TikTok is committed to having a diverse workforce.
TikTok is on a mission to become the most diverse and inclusive company in tech and is trying to accomplish this by championing diversity and inclusion both in the workplace and on the platform.
The company established a Diversity & Inclusion Council in North America which serves as a strong advocate for the company's diverse community by highlighting important issues for employees and the business, including supporting employee resource groups and ensuring accountability across the organization.
In June 2020, the company engaged the black community in important conversations about racism and discrimination by inviting black creators to share their concerns and experiences with TikTok leaders. The company also held a roundtable to hear the perspectives of TikTok student ambassadors from historically black colleges and universities (HBCUs).
"In these discussions, our community has emphasized the need for TikTok to take more proactive steps against harassment, better understand cultural sensitivities, and broaden our own team's perspectives. Internally, forums with our Black employees are facilitating ongoing conversations to make sure we're aligning our on-platform and community initiatives off the platform as well," the company says on its website.

TikTok has also made an effort to recognize different cultures throughout the year while donating to organizations that fight for equality.
TikTok is a "Great Place to Work."

TikTok's U.S. and U.K. offices were certified by the Great Place to Work Institute for 2021. Company leadership said the certification was a major accomplishment in a year where TikTok saw major growth and had to work remotely during the pandemic.
"While this past year has been anything but ordinary (and led many of us to work from home), we've continued to support our employees through initiatives like our Inclusion Summit, community townhalls, virtual concerts, wellbeing workshops, training sessions, and more. As we grow, we're also working to realize our goal to become the most diverse and inclusive company in tech -- with an incredible culture built on trust," the company said in response to certification.
TikTok has an overall score of 3.9/5 on employee review site Glassdoor and earned a score of 4.5/5 for its employee benefits.
Benefits and perks at TikTok include:
Paid time off, health insurance, 401(k) matching
Fitness subsidies
Online courses for professional development
Pet-friendly offices
Office meals
Casual dress code at the offices
TikTok wants to make a positive impact on the world.
TikTok has occasional "TikTok for Good" campaigns where they encourage content creators to make a positive impact with promoted hashtag campaigns. Successful campaigns have included:
#EduTok - The company's most popular challenge encouraged users to create educational and motivational content around a variety of themes. In addition to this in-app challenge, TikTok launched a mentorship program with leading social enterprises Josh Talks and The/Nudge Foundation which will reach 5000 young individuals across 6 Indian states with lower literacy rates.

#PetBff - The companyworked with animal shelters and animal welfare organizations worldwide in a global campaign to celebrate International Homeless Animals' Day 2019. For every video posted, TikTok donated $1 to its animal protection partners (up to a maximum of $175,000 USD).
Career Opportunities At TikTok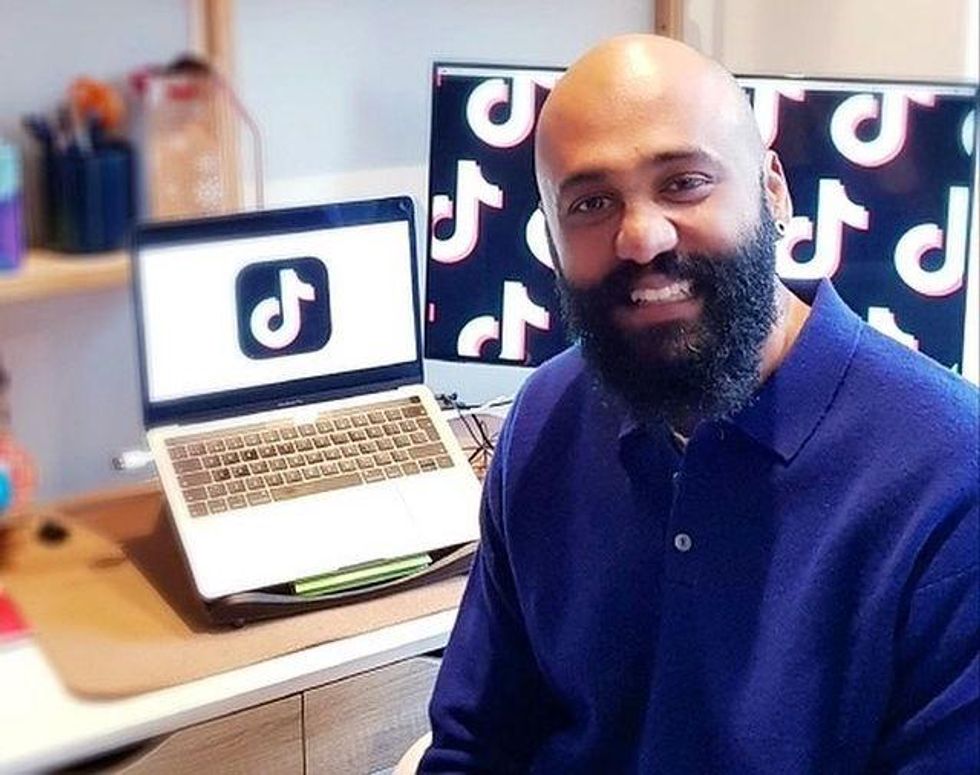 A TikTok employee works remotely.
(Photo from Instagram)
To apply or learn more about working at TikTok, check out the company's careers page.