Popular
With Offices In 49 Countries, People All Over The World Can Work For Nike
Nike's South Korea flagship store in the heart of the Gangnam shopping district is home to the best of Nike.
Can you imagine working for a brand like Nike that's represented all over the world? Sport is a huge part of people's lives, and Nike is expanding its office locations so people from across the globe can bring the brand to life. Nike hires people specializing in a wide array of backgrounds to support its offices in 49 different countries.
---
The success of every business lies within its people, and Nike has some of the best talent the world has to offer.
With offices all over the globe, everyone has the opportunity to impact the Nike brand. Here are some of the Nike headquarters locations where employees are helping create the future of sport:
Argentina
Nike's Argentina headquarters and retail stores are located in the vibrant and electrifying capital of Buenos Aires.
Employees value the team culture that Nike has created. No matter where you're located, Nike understands the importance of hiring talent who thrive in a family-oriented atmosphere.
"Going to Nike every day is a dream," said Lucas M., Store Head Coach. "It is a challenge day by day to reach the results and inspire the athletes constantly. My store is my home and athletes my family. The best thing about the team is the diversity. The team is made up of athletes of different ages, from 19 years old up to 40 where the experiences lived and their energy power the team day by day. Managing that diversity is what empowers us to form a strong team."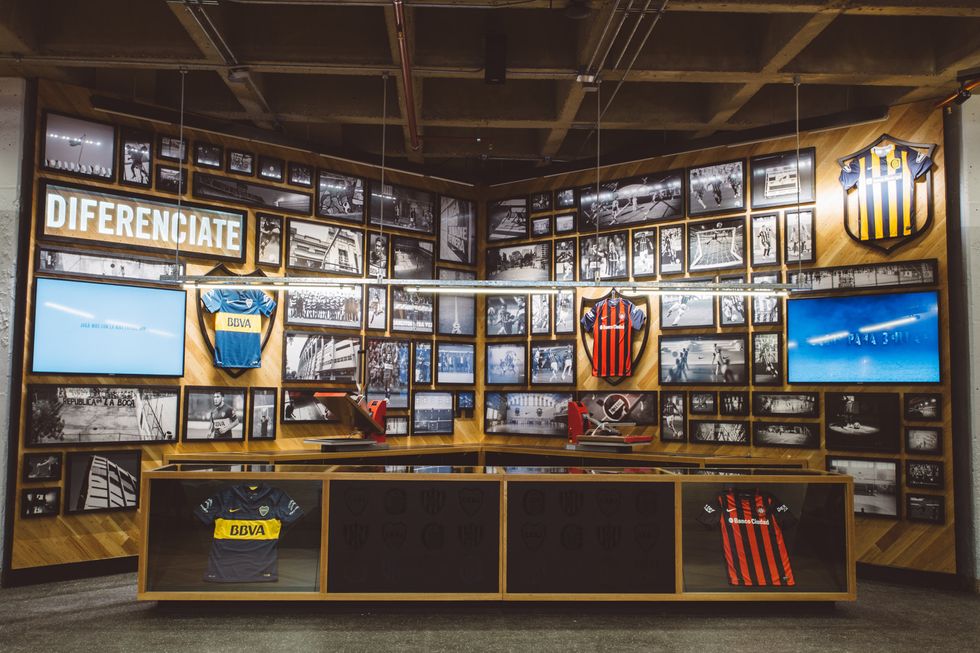 Nike's Buenos Aires, Argentina retail location showcases the country's rich sport heritage.
In addition to the beautiful area where this office is located, employees are offered many perks, including gym access and discounts on Nike products.
If you live in Argentina and think you have what it takes to represent the Nike brand, check out their open positions. They're currently looking for athletes to fill the following roles:
Financial Planning Director
Nike Direct HR Manager
Nike Tech Director
Technology Services Manager
Korea
Nike is invested in its employees' success no matter where they're located. Employees are encouraged every day to challenge the status quo and push their creative limits.
"Nike values employees' individual career plan," said Nike dot com director SongYee K. "It's a dynamic place to challenge myself every moment, and I have opportunities to expand my career outside of my current role. When I first joined Nike, I was not really familiar with talking about my career plan with my manager. It was a new process for me, but now I know how important it is to be open to my manager about my development plan and how much coaching is important to managers."
If you want to work for a company that cares about you on a personal and professional level, then Nike is the place for you. Take a look at open positions in Korea.
Finance Governance Analyst
Nike Factory Store Allocator
Lead Privacy Manager
Mexico
Are you currently located in Mexico and looking for an opportunity to make a difference in the sports community? With headquarters in both Guadalajara and Mexico City, Nike is looking for innovators to think outside the box to help the company stay ahead of its competition.
One of the biggest things this location values is the people who work there; the team encourages you to be the best possible version of yourself.
"My favorite thing about working at Nike is: people, people, people," said Nelson S., the Nike Women Marketplace Director. "It's like working with friends and family. They become such an important part of your life and you always have so much fun with them. I also enjoy the opportunities of learning new facets of the business and having the possibility to try new jobs. It's a place that you need to reinvent yourself, it changes continuously and gives you the opportunity to create every day. It's a company that moves fast so you need to keep up with the rhythm and enjoy on the go."
In Nike's Mexico office, employees have access to private spaces like their "Quiet Room" for nursing moms, as well as focus and conference rooms. There are also pantry areas available on each floor so people can prepare lunches and relax during breaks.
Want to join a team where professional growth is supported and encouraged? Nike's Mexico location is hiring! Take a look at some of its open roles:
HR Manager
Strategic Account Sales Manager
Product Presentation Regional Coordinator
Brand Communication Director
Comms Specialist
Australia
Nike recently relocated its Australia office to a brand-new space in a premier part of Melbourne.
"My favorite thing by far would be the people I get to work with every single day," said Sam J., who works in the finance department at Nike. "I get to work with some of the most passionate, inspirational, smart, kind and fun people in the world which makes me so excited every day to be able to contribute to the team's success. The company has built a culture of respect and diversity which makes every employee feel empowered to produce the best work they possibly can."
If you're someone who not only loves working in the athletic industry but also loves watching sporting events too, then Nike's Australia office is the perfect place for you! With easy access to sporting facilities such as Melbourne Cricket Ground and Melbourne Park (where the Australian Open is held), you'll be able to join in on the fun when you're not in the office.
If you live in Australia and think you have the skills to take Nike to the next level, check out their open positions. Their team is currently looking for talent to fill the following positions:
Account Executive
Director Operations & Logistics
No matter where you're located, you have the ability to impact the Nike brand
As a global brand, it's crucial to Nike's success to continue presenting opportunities to talent all over the world. Whether you're in Oregon, Argentina, Korea, Mexico or Australia, Nike offices around the world are looking for people who want to help them create the future of sport.
Nike currently has more than 73,000 employees and they're always looking for passionate athletes who have what it takes to help drive the Nike brand forward. If you live in one of these areas and think you have what it takes,
take a look at their open positions
.
.